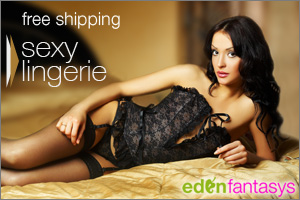 My birthday was this week and my husband's birthday is next month. I don't know about any of you but sometimes I have a hard time trying to figure out what my husband will want for his birthday. Sometimes I know exactly what to do and I have it purchased way ahead of time, other times I have no idea what to do and I am lost!!
Good thing there is
EdenFantasys.com.
They have everything for Husaband and Wife. Whether you are looking for
sexy lingerie
,
sex toys
, or just some fun
lubricants
, they have it all!
I am still trying to figure out what he would like to get the most. I was looking thru their Sexy Lingerie and I think I am going to get this
Isn't it so cute!! Those are my two favorite colors and I know that my husband likes those colors too!
I think to along with that we need their Chemistry Bubble Bath set
This is a fun set that has different scents so you can mix and match them or just use one at a time. Its the perfect little set and very reasonably priced too.
So no matter what you are looking for,
EdenFantasys.com
defiantely has it for you. Their shipping is very fast and I have never had a problem with anything that has come from them. As an added bonus, right now they are having a New Year Clearance up to 70% off. They have some fabulous deals going on. Go check it out!!
**I was given a giftcard for this post, no other compensation was received, opinions are thoughts are 100% my own, and other may have different opinions**